Current threat level:

Explanation:
¡TchKunG! & the Infernal Noise Brigade have been rumored to be planning a festival of unrestrained joviality and conviviality at this very location. Participants beware! This behavior is highly unpatriotic and quite possibly terroristic. All those with information that might lead to the capture and subsequent detention of any ¡TchKunG! or INB operatives, please submit your information in the form to the right.
---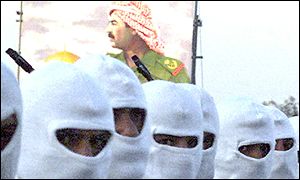 THE ENEMIES OF DEMOCRACY ARE EVERYONE'S ENEMY!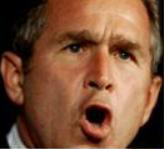 'George is a monkey', Laura Bush tells Japanese children
US First Lady Laura Bush, accompanying her husband on a tour of Asia, visited an elementary school in Tokyo yesterday, reading a Curious George story to second graders.
Laura Bush visited the public Akashi Elementary School with 125 pupils in central Tokyo, while US President George W Bush was having talks with Japanese Prime Minister Junichiro Koizumi.
"George is a monkey," the former school teacher told a class of 25 second graders aged eight to nine, while asking whether they had ever readCurious George stories.
She read the book to the children for about 10 minutes through an interpreter, Akashi school principal Iekado Chiba said.
Laura Bush, 55, was accompanied by Princess Hisako, wife of Prince Norihito, who is a cousin of Emperor Akihito.
The First Lady smiled as Hisako explained to the children: "George is the same name of the president, and the book is about a smart monkey"."
She is a very warm and gentle lady," Chiba said. "She was a good reader, very good at catching children's attention."
He also noted that the children could tell how the story developed even though they did not understand English.
The books by H.A. and Margret Rey about a little monkey with bags of curiosity and his friend, the man in the yellow hat, have become children's classics since the first volume was published in America in 1941.
The schedule centring on children was in marked contrast to the itinerary drawn up when former US first lady Hillary Clinton visited Japan in April 1996 with then president Bill Clinton.
The media focused on Hillary's lunch talks with Japanese women at that time, which gave a morale boost to their struggle for a stronger profile in society. Hillary was also taken to inspect a model waste incinerator.