Current threat level:

Explanation:
We do not give your information to the government or any private corporation. By registering on this list you will only get updates from Post World Industries, which are very infrequent. You are welcome to give a false name but please give your real city location, because we will only send notice of performances to people in local areas.
Thank You.
---
Destroying freedom one citizen at a time.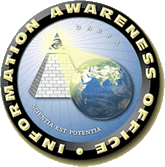 Is the Office of Homeland Security's signup form confusing to you?
Would you like to know more about what will be done with your information after it is entered into our system?
The Information Awareness Office has been created to assist you.
Click here for an explanation.